York man in coma two weeks after attack at flat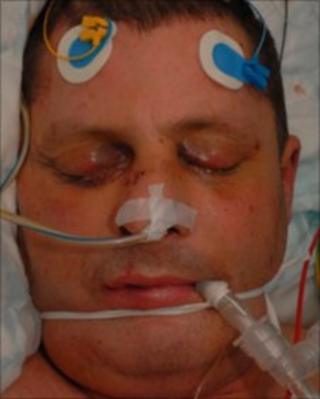 An attempted murder investigation has started in York after a man was attacked and left in a coma.
Dominic Conlan, 56, was found with serious head injuries at his flat in Partington House, in The Groves area of York on 8 January.
Police said his injuries were consistent with a weapon being used and it was not known if he would recover.
Nine people have been arrested in connection with the incident and released on bail.
Eight men aged between 15 and 27, and a 25-year-old woman were questioned by police, who have urged anyone with information to contact them.
In a statement Mr Conlan's brother, Martin Conlan said: "There are people, maybe young people, who may have witnessed this barbaric attack and are haunted by what they saw.
'Savagely attacked'
"They are victims too. Any information will help the police bring those responsible into the light."
Mr Conlan described his brother as a good man who "did not deserve to be so brutally and savagely attacked".
Police are also trying to locate a white and green tracksuit top, which could be Adidas.
They said their investigations indicated that someone involved in the incident had run from the flat and discarded it.