North Yorkshire senior officer's row with authority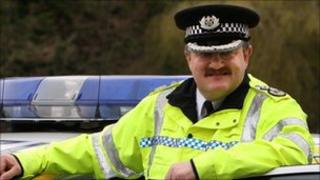 A senior police officer has criticised his police authority for carrying out an investigation into how he spent £10,000 on training over two years.
North Yorkshire Police Authority looked at how the coaching was arranged by Deputy Chief Constable Adam Briggs.
Mr Briggs asked if "valuable time and resource" should have been spent on the investigation.
The authority said it hoped Mr Briggs was not suggesting the case should not have been investigated.
The county's police authority said it had "considered the circumstances" around the personal development training provided to Mr Briggs over a two-year period from 2007 to 2009.
It said the officer, on behalf of North Yorkshire Police, entered into a contract with executive leadership company Enabling Development.
Mr Briggs had received services from that company in his former role as the Assistant Chief Constable with Cleveland Police, the authority said.
The cost of the course picked up by North Yorkshire Police was £10,000 plus VAT, which was paid in four equal instalments up to July 2009.
But Mr Briggs did not seek alternative quotes for such a course or the approval of North Yorkshire's chief constable, the authority statement said.
Mr Briggs said Chief Constable Grahame Maxwell retrospectively authorised the course and he was given advice about the procedural lapse.
Advice accepted
In a personal statement, Mr Briggs said the matter had been raised and dealt with by the chief constable two years ago.
He said: "In March 2009 when the chief constable granted retrospective approval for the training he gave me informal advice that approval should have been sought at the time and I accepted that advice then.
"Now, at a time in which the force is faced with making hundreds of people redundant and operating on a greatly reduced budget, I'm sure the public are left wondering why valuable time and resource has been used up resurrecting a matter that was dealt with properly and effectively two years ago."
North Yorkshire Police Authority issued a further statement which questioned Mr Briggs's response.
It said: "The authority hopes that Mr Briggs is not suggesting that, during times of public expenditure constraints, police authorities should deal with potential inappropriate behaviour on the part of senior officers in any way other than openly, transparently and proportionately."
In December the police watchdog, the Independent Police Complaints Commission (IPCC), outlined misconduct charges upheld against Mr Briggs on a separate issue.
He was accused of helping a relative get a job during a recruitment exercise in February.
The charges were upheld at a misconduct hearing in December.
The IPCC said Mr Briggs failed to challenge or report improper conduct and acted in a way that could undermine confidence in the police.