Arsonists target farm hay stocks in North Yorkshire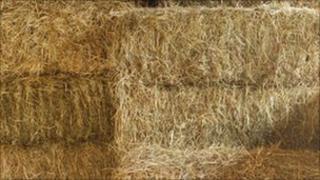 Arsonists have been targeting farms across North Yorkshire by setting fire to stocks of hay and straw, with losses running into thousands of pounds.
Police said the fires had been started in the Hambleton and Richmondshire areas of the county.
In the latest attack straw valued at £3,000 was burned at Newsham Grange Farm outside Northallerton.
Other farms have been attacked and in one instance hay valued at £8,000 was destroyed in a blaze.
Officers said other incidents included a fire in late January on Danby Wiske Road, Northallerton, when two hayricks containing loose hay were set alight.
In December 200 bales of hay were destroyed at a farm on New Road, Hessay. The resulting smoke caused traffic disruption on the A59, which runs past the farm.
Hay estimated to be worth £8,000 was lost when 400 bales were deliberately set on fire at High Merrybent Farm, Melsonby near Richmond in November.
Pc Quita Passmore of North Yorkshire Police said: "Apart from costing the farmers - whose property they are destroying - many thousands of pounds, the arsonists are putting themselves and those tackling the fires at risk."
Police want to speak to anyone with information about the arson attacks.