Children found living in squalor in Scarborough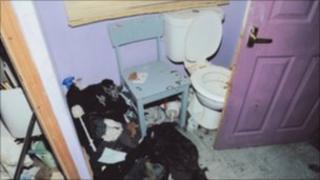 Four children were rescued from "squalid" conditions in a Scarborough house when it was raided by police.
Officers said the boys, aged eight to 12, were living among piles of rubbish, dirt and excrement in the worst conditions they had ever seen.
Their mother, who cannot be named for legal reasons, was jailed for 51 weeks, suspended for two years, in February.
She was found guilty of their ill treatment and neglect at York Crown Court.
The Crown Prosecution Service have released photos of the conditions police found inside the house when they raided it in January 2010.
'Incomprehensible squalor'
Det Sgt Mike Moorhouse said: "The living conditions these children were found in and their state of health was almost beyond belief.
"They were amongst the worst conditions the investigating officers have ever found children living in, hence why they were removed from the house immediately."
He added: "That any parent can allow their children to live in such squalid surroundings cannot be comprehended but it must serve as a reminder to everyone that the protection of children isn't just the responsibility of agencies, it's the responsibility of us all."
The children remain together in foster care, and North Yorkshire County Council said they are well.