Expensive birds stolen from North Yorkshire farm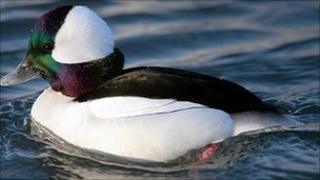 More than 40 high value birds have been stolen from a North Yorkshire farm.
Police said the breeds, stolen from a farm in Sutton Under Whitestonecliffe near Thirsk, were worth a total of several thousands of pounds.
They include breeding pairs of bufflehead ducks, red-breast geese, scaup and hen birds including pochard.
Pc Jon Grainger said: "I believe whoever carried out these thefts has knowledge of wildfowl as they targeted the more expensive breeds."
The birds were stolen in two burglaries.
Twenty-seven were stolen in the first theft, which happened between 1400 GMT on 6 March and 1400 GMT on 7 March.
A further 21 birds were stolen in the second theft between 1900 GMT on 12 March and 0730 GMT on 13 March.
Witnesses or anyone with information should contact North Yorkshire Police.