Husband called 999 to 'report' post office murder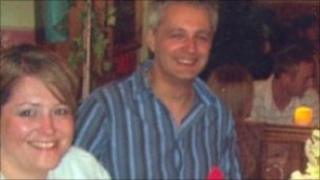 A husband accused of murdering his postmistress wife dialled 999 to report she had been attacked leaving "blood on the pillow", a court has heard.
Robin Garbutt, 45, denies killing his wife, Diana Garbutt, 40, in March 2010, who was found dead with head wounds.
Mrs Garbutt was found in bed above Melsonby Post Office which the couple had run together since 2003.
Teesside Crown Court heard Mr Garbutt discovered his wife had been attacked during a robbery at the post office.
The court heard Mr Garbutt dialled 999 to report an armed man had entered the shop, told him to switch off the lights, lock up, and to fill a holdall with cash.
He said once the robber had left he went upstairs and found his wife had been attacked.
'Violently kill'
Paramedics called to the post office said they found Mrs Garbutt with blood pooling in tissue where her heart had stopped.
They said she had died about 35 minutes after being hit three times in the head with a "rod-like" weapon.
Expert analysis presented to the court revealed the couple had eaten fish and chips at about 2000 GMT on the night of the attack, but death stopped Mrs Garbutt's digestion between six and eight hours later.
A murder investigation was not launched until the following morning when the incident was reported to police.
David Hatton QC, prosecuting, said the village would have been busy at about 0830 GMT, when the alleged robbery happened.
He said: "One of the questions you will have to consider, if you accept this evidence, is the likelihood of a robber or robbers being prepared to violently kill a female sleeping in her own bed, at all, but then, having done so, to wait for four to six hours before going downstairs to rob the post office.
"And then, it has to be said, having been prepared to bludgeon the lady to death upstairs and wait for that length of time, to leave the defendant himself unharmed and unrestrained to raise the alarm."
The court heard that Mrs Garbutt had lost interest in the business, and while her husband would get up at 0400 GMT to open up the shop she rarely rose before 0830 GMT.
It was also noted that in 2009 Mr Garbutt reported to police a £10,000 robbery had taken place at the post office, but no-one had seen anything suspicious and no arrests were made.
The trial at Teesside Crown Court is expected to last four weeks.