Scarborough divers in English Channel sea scooter bid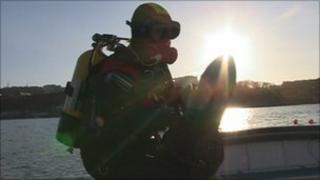 Scuba divers from North Yorkshire are preparing to cross the English Channel on submerged sea scooters.
The four divers from Scarborough Sub Aqua Club will cross the channel 5m (16.4ft) below the water's surface.
Guinness World Records confirmed that, if successful, the team would be the first to complete the challenge.
The 21-mile (34km) trip from Shakespeare's Cliff, Dover, to Cap Gris Nez, France, is expected to take up to 12 hours and is scheduled for July.
Ship vibrations
Sea scooters propel divers along at a speed of about 3 knots and were used in the James Bond film Thunderball.
The divers will work in pairs, moving across the channel for an hour at a time and will have to consider oxygen levels, buoyancy and the risk of developing the bends, a decompression illness.
Diver Darren Spencer said: "We're pretty confident, we've got a lot of guys in the club that are going to back us and support us in every way they can.
"It's never actually been done before. It's going to be pretty tough."
Mr Spencer said during the crossing the divers would feel the vibrations and hear the engine noise from major vessels crossing the shipping lane.
Team member Heath Samples said: "It's never been done before, so if we set the record then we will get the record.
"In this day and age there's not many things which haven't been done before. We're pretty excited."