Melsonby murder accused 'in good marriage'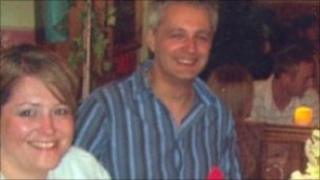 A shopkeeper accused of murdering his postmistress wife appeared to have a loving marriage, a resident in their village has told a jury.
Teesside Crown Court has heard Robin Garbutt, 45, attacked wife Diana in their bed, then pretended she had been killed by a robber.
Mrs Garbutt died in March 2010 in the living quarters of The Village Shop and Post Office in Melsonby, North Yorkshire.
Mr Garbutt denies murder.
The jury heard evidence from a series of Melsonby residents who were in the shop on the morning of 23 March 2010.
Bernard Golding, a Melsonby resident, socialised with the Garbutts regularly and when he was asked to describe them, said: "Very loving. Affectionate.
"Never, ever in the eight years I knew them had a cross word."
Metal rod
Mr Golding said Mr Garbutt appeared his "normal jokey self" when he went in the shop that morning.
The prosecution has alleged he hit his sleeping wife's head three times with a metal rod, killing her, then opened the shop as usual.
Mr Garbutt told police a robber forced him to open the safe some time after 0830 GMT, and when he went upstairs he found his wife had been attacked.
Mother-of-three Nicola Foster told the court that 40-year-old Mrs Garbutt had told her she was looking forward to going to visit relatives in America with her husband.
The jury had previously been told Mrs Garbutt had been unfaithful, used internet dating sites and the couple were considering moving apart.
'Badly shaken'
In March 2009, Mr Garbutt claimed an armed robber struck at the shop although no-one was ever arrested and no witness saw anything suspicious, the court heard.
Witness Edward Sheddon said it appeared Garbutt was badly shaken for some time afterwards.
"Initially he seemed very shocked and upset by the situation and I do know they were thinking of leaving the shop," he said.
"The village rallied round him."
Jamie Hill QC, defending, asked: "Villagers persuaded him to stay?"
"I think we helped, yes," Mr Sheddon replied.
Mr Sheddon, who has lived in Melsonby for more than 30 years, was in the shop just minutes before Garbutt dialled 999 to raise the alarm.
The case, which is expected to last for four weeks, continues.