Postmistress murder accused 'cried without tears'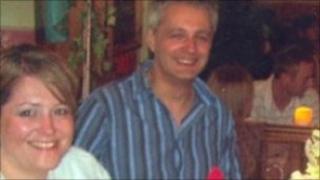 A police officer has told a court how a shopkeeper accused of murdering his wife sobbed "without tears" at the scene of her death.
Teesside Crown Court heard Robin Garbutt, 45, attacked postmistress wife Diana Garbutt in their bed, then said she had been killed by a robber.
Pc Mark Reed told the court: "He would sob occasionally. There didn't seem to be any tears."
Mr Garbutt of Melsonby, North Yorkshire, denies murder.
Police were called to the Village Shop and Post Office the couple ran in March 2010.
Mr Garbutt claimed an armed robber had forced him to open the safe, and when he went upstairs he found his 40-year-old wife dead.
'Still warm'
But Pc Reed, the second officer at the scene, said Mr Garbutt's account of events that morning "jumped around".
The first policeman to arrive was traffic officer Christopher Marlow.
He said a paramedic reported that rigor mortis had set in on Mrs Garbutt.
The officer told the trial: "Mr Garbutt said words to the effect of 'How can that be? She's still warm'."
Two part-time employees at the shop gave evidence to say the couple seemed happy.
Linda Ling told the court: "I always thought he (Mr Garbutt) thought the world of her."
Linda Sharp said Mr Garbutt was "absolutely wonderful - a very kind, gentleman".
She added: "They were just a normal, happy couple."
The trial continues.