Pub landlord jailed over Scarborough cellar death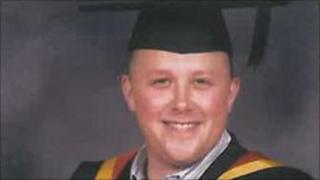 A former landlord of a North Yorkshire pub has been jailed for two years after a customer fell down the cellar stairs to his death.
The body of 36-year-old James Teasdale was discovered at the Zest bar in St Thomas Street, Scarborough, in July.
He fell after mistaking the cellar door - which was not locked or signposted - for the toilets, police said.
David Bell, 51, of Park Road, Cambridge, admitted gross negligence manslaughter at Leeds Crown Court.
The court heard that Mr Teasdale, a graphic designer, had gone to the bar with friends on 11 July, the night of the World Cup final, when he fell.
'Preventable death'
Mr Teasdale's body was not found until 14 July, a day after his family had reported him missing.
The court head that following his fall Mr Teasdale had remained conscious but concussed and crawled around the cellar for up to four hours before he died.
His body was not found for several days because the pub had closed for a training course.
Bell was charged with gross negligence manslaughter after it was found the cellar door was not locked or significantly signposted.
It was also noted that prior to Mr Teasdale's death several other people had fallen down the stairs sustaining injuries, and a member of staff had also tripped over an electrical cable running in front of the door.
Bell was also found guilty of three health and safety breaches, which will stay on file.
In a statement Mr Teasdale's parents, Derek and Barbara said: "We are very relieved that justice has been carried out for James and for everybody who knew and loved him.
"We all miss James greatly and his tragic but preventable death will live with us forever."