North Yorkshire Police launch app for handheld devices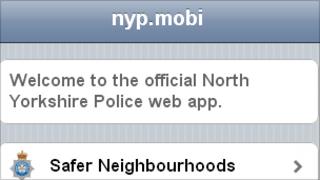 North Yorkshire Police is claiming to be the first force in England to launch and go live with a web application for handheld devices.
The application (app) was devised by the force's web officer and allows users to access news, appeals, weather and flood alerts.
A spokesman said advanced phones, tablets and other handheld devices could access the information.
The app is available to download free from www.nyp.mobi
'Quick and convenient'
Web officer Tom Stirling said devising the app at no cost had saved the force thousands of pounds at a time when police forces around the country were striving to cut their budgets.
He said: "This new app gives people in York and North Yorkshire the chance to see detailed crime data, witness appeals, safety advice and police team information for their neighbourhood, all via their mobile phone.
"By installing the free NYP mobile app, members of the public will have quick and convenient access to a wide range of information from North Yorkshire Police in the palm of their hand.
"As well as accessing crime prevention advice and the latest witness appeals, they can even use the app to 'follow' their local officer on Twitter.
"In addition, phones equipped with sat nav technology can be used to find their local police station.
"We used freely available, open source tools to create the app entirely in-house, so it has cost nothing to develop."
He said there was a button to provide feedback within the app, and officers welcomed suggestions for further content.