Post office murder accused knew of 'intimate encounter'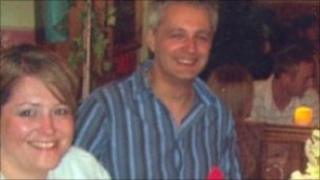 A postmistress whose husband is accused of killing her had confessed to him about an "intimate" encounter with another man, a court has heard.
Three men who became involved with Diana Garbutt, 40, gave evidence at the murder trial of her husband Robin, 45.
Mr Garbutt denies killing his wife in the living quarters above the Post Office in Melsonby.
Teesside Crown Court heard that Mr Garbutt had been aware of his wife's involvement with other men.
Wife's confession
Police were called to the Village Shop and Post Office the couple ran in March 2010.
Mr Garbutt claimed an armed robber had forced him to open the safe, and when he went upstairs he found his 40-year-old wife dead. She died from three blows to the head.
John Illingworth told the court he had been "intimate" with Mrs Garbutt in 2008 while the couple stayed with friends.
He said he could not remember the extent of the encounter because they were both "very drunk" but that Mrs Garbutt had told her husband about the incident.
The jury heard that Mr Illingworth asked Mrs Garbutt whether he should expect a visit from her husband but was told: "Robin's not like that, he's not physical."
Family party
A Facebook friend of Mrs Garbutt, Craig Hall from Melsonby, also appeared in court.
He told the jury he had enjoyed "cheeky banter" with Mrs Garbutt and late night bike rides, but they had not had a physical relationship.
He said Mrs Garbutt had told him her marriage was going through a "rough patch" and her husband had considered paying for her to live elsewhere.
A third man, the husband of Mrs Garbutt's cousin, also appeared and told the court he had kissed Mrs Garbutt after a family party in 2009.
Kevin Heapey, from Chelmsford, said he ceased contact with Mrs Garbutt soon after the kiss, and deleted an email from her.
But he said the email was similar to a note written by Mrs Garbutt which was later found.
In it she said she had "been part of something seedy" and they should remain "friends".
Mr Heapey said he told his wife about the kiss, who made him tell Mr Garbutt.
Mr Garbutt responded with "let's leave it at that", the court heard.
The trial continues.