Melsonby postmistress murder: 999 call read to jury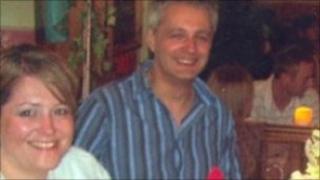 A transcript of a 999 call made by a man accused of killing his postmistress wife has been read out in court.
Robin Garbutt, 45, denies murdering Diana Garbutt, 40, above the Post Office in Melsonby, North Yorkshire, in March last year.
In the 999 call, Mr Garbutt challenges a paramedic sent to treat his wife when he is told rigor mortis has set in.
He is heard to say: "She's warm." The paramedic replies: "But if you look sir, that's what we call rigor mortis."
The prosecution at Teesside Crown Court claims Mr Garbutt, who had £30,000 of credit card debts, murdered his wife in the early hours then pretended an armed robber killed her and fled with cash from the safe.
Dead 'for a while'
A transcript of his 999 call to the ambulance service was read to the jury.
When told that rigor mortis had set in, he replied: "It's not rigor mortis."
The paramedic said: "It is I am afraid. She's been down for a while."
Mr Garbutt told police he had opened the shop as normal before 0500 GMT and left his 40-year-old wife asleep in bed.
After serving numerous customers, he told detectives shortly after 0830 GMT that a man with a handgun told him "don't do anything stupid, we have got your wife", the jury heard.
He told officers he went straight up to see her after the robber fled with cash, and found her motionless and face down on the bed.
During his 999 call he told the handler: "My wife's been attacked. She's gone a funny colour and is not responding to anything."
When the operator asked if she was still breathing, he said: "No I don't think so. There is mess on the pillow."
Later he added: "There's blood everywhere, her face is terrible."
The handler asked if Mrs Garbutt had been shot and he replied: "I don't know. I would have heard a gun. There's blood on the pillow and that's all I can see."
The trial continues.