Radio York want inspiring women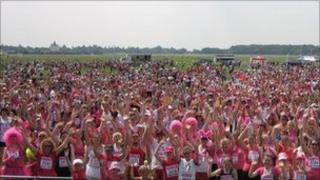 BBC Radio York and Cancer Research UK are hoping inspirational stories will encourage more people to participate in the Race for Life this year.
Events, held across the country, are thought to have raised more than £350m for research into cancer since 1994.
The charity believes personal stories of how cancer affects lives helps encourage people to get involved.
People who choose to share their story could be asked to start their local race.
Jo Buckton, from York, spoke to BBC Radio York about what motivates her to take part each year.
"Happy memories"
"My mum was diagnosed with cancer in 2001 and we lost her in 2006. I'd been doing the race for years but in 2005 all the girls in the family, including mum, took part.
"We've got lots of happy memories of that day," she added.
Shortly after losing her mother, Jo was diagnosed with Leukaemia herself. She didn't think she would have the energy to continue taking part but says she was determined:
"You've got to get back on your feet and raise these funds to try and find a cure for this disease that devastates so many families."
Jenny Key is one of the organisers of the annual event in York she says it is an "amazing" day.
"We have more than 5,000 women on the Knavesmire along with their families. It is one of those days where everyone comes together for one reason. It is a terrific atmosphere," she explained.
Race for Life events take place across North Yorkshire and people willing to share their stories with the BBC can do so by visiting this website. Please start your story with the words BBCYORK.