'Granules' found on Hunmanby Gap sent to US for tests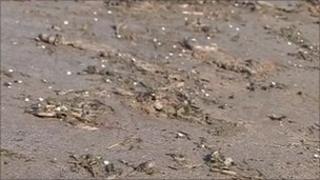 "White granules" which were washed up on a beach in North Yorkshire have been sent to America for analysis.
Police were called to Hunmanby Gap near Filey at about 1345 BST on Wednesday after the coastguard reported unidentified granules washed up on the shoreline.
North Yorkshire Police said the "white granules" were of an "unknown nature".
A five-mile stretch of the beach has been cordoned off while a clean-up operation is conducted.
The granules have been sent to America after a specialist UK team has so far failed to identify the contents of the substance.
Insp Leo Suret from North Yorkshire Police said: "It's [the granules] along the high tide mark so it's obviously come from the sea, but how it's got into the sea we have absolutely no idea.
"Our primary concern is public safety, both to the people using it and animals, and we want to make sure that nobody is going to be harmed by it."