Archbishop of York leads St George's Day sing-a-long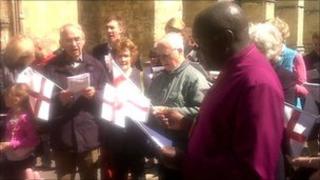 The bells of York Minster rang out to the tune of patriotic English songs on Monday as the Archbishop of York led a celebration of St George's Day.
Dr John Sentamu has campaigned for the saint's day to be a national holiday.
On Monday, he led a public sing-a-long of Rule Britannia and Land Of Hope And Glory as the minster bells rang out.
This year, the Church of England has moved its St George's Day celebrations from the traditional date of 23 April to avoid clashing with Holy Week.
'Proud history'
More than 100 people turned out to join the archbishop's patriotic celebration outisde the minster on Monday afternoon.
To mark the occasion, the minster's carillon bells were played by Dr John Ridgeway-Wood, one of the UK's leading carillonneurs.
Dr Sentamu said: "I have long campaigned for us to have a special holiday where we can celebrate our patron saint and all that is great about our wonderful nation.
"There is so much to love about England.
"Why can't we put aside one day a year where we can wave our English flag of St George, sing songs about our proud history and maybe even drink a pint of English real ale with our friends?
"I think it is important that the Church pays St George his full dues with the sort of celebration not possible during Holy Week.
"Patriotism is only wrong if you are not doing it in the name of the Crown and if you are doing it simply to run down another group."