CCTV released of Scarborough penguin enclosure break-in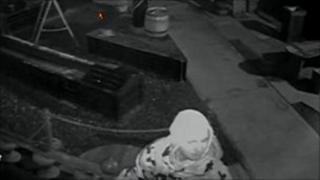 CCTV footage has been released of one of three men who broke into a penguin enclosure at a Scarborough tourist attraction.
Staff at Sea Life Scarborough said the penguins were left "frightened and upset" after being chased around their enclosure for about 15 minutes.
The men were captured on CCTV after breaking into the centre in the early hours of 25 April.
Sgt Trish Hope said it was a "mindless act of criminal damage and cruelty".
The centre has also suffered a series of other less serious incidents over the past week.
Ms Hope, of North Yorkshire Police, added: "Thankfully the penguins were physically unharmed but were very alarmed and frightened by the incident.
"The staff at the centre were understandably very upset and struggle to understand why anyone would wish to disrupt the centre or cause harm to the animals."
Speaking earlier this week, Mike Salt, general manager at the centre, said the break-in had left the penguins "off their food for several days".
He said a similar incident took place in 2008 when one penguin was stolen from the enclosure. It was later discovered alive.
Witnesses or anyone with information are being asked to contact North Yorkshire Police.