Bolshoi marks Scarborough Spa reopening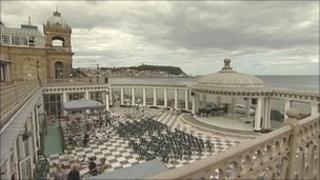 Scarborough Spa is marking its reopening after a £6.5m refurbishment with a concert by the world-renowned Bolshoi Symphony Orchestra.
The refurbishment project has seen significant redevelopment of the grade II-listed Victorian concert hall.
The Grand Hall's stage area has been enlarged and now includes an access lift, allowing faster scene changes.
The scheme was completed after Scarborough Council agreed to use all of its reserves to plug a funding gap.
The move came after regional development agency (RDA) Yorkshire Forward cuts its original contribution from £4m to £800,000 after the government's decision to abolish RDAs.
The authority hopes to recover the funding from other sources in the current financial year.