Domesday Reloaded North Yorkshire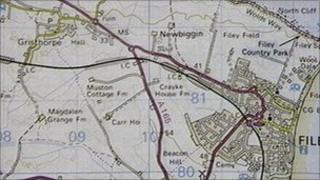 An extensive account of what life in the 1980s was like in North Yorkshire is being made available online.
25 years ago more than a million volunteers helped collect data for the BBC's Domesday Project.
People were asked to record what they thought would be of interest in another 1000 years and over 174,000 entries were recorded.
The BBC has put the content online for the first time and is launching a new project about life in 2011.
The original project was designed to mark the 900th anniversary of the Domesday Book.
Initially it was hoped the information would be stored on laserdiscs accessed using 'Domesday machines', which were BBC Micro computers that would be located in every school, library and university.
But laserdiscs soon became a thing of the past and the machines, at £5000 each, were deemed too expensive.
Domesday Reloaded
25 years later, a lengthy process to move the content to a new website has been completed. On the site you will see how the UK was divided into 3x4km 'Domesday squares'.
There are over 24,000 such blocks in the UK and by the end of the project 9000 squares were covered constituting the majority of the more densely populated parts of Britain.
Each individual block has up to 20 pages of text and three photographs.
In most cases it was local schools who researched and added the descriptions and photographs, but WI branches, scout troops and individuals also helped.
Now people will be able to access the information using their own computer.
If you took part in the original project or are interested about what was recorded in your local area then visit the website.
Yorkshire memories
As part of the project the BBC is revisiting some of those who recorded their thoughts in 1986 to see how things have changed over the last 25 years.
One Filey schoolboy, Richard Adams, spoke affectionately about going fishing with his father and cousin on their blue coble boat called 'Deep Harmony'.
The Yorkshire fishing industry was already in decline in the 1980s perhaps one reason Richard was prompted to record his weekend trips to sea.
After leaving school Richard initially worked with his father and brother in the fishing industry before travelling to the Falkland Islands to undertake fishing research.
The Adams family now run an underwater diving school in Filey.
The family have also been closely involved in the search for the wreck of the Bonhomme Richard, an American ship captained by John Paul Jones, which sank off the coast of Filey during the American War of Independence.
You can find out more about the memories recorded for Filey on the Domesday website.