Thirsk waste firm fire 'was spontaneous combustion'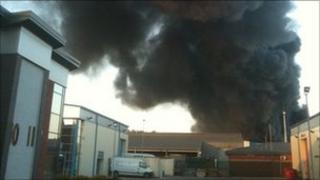 A fire at a waste management depot in North Yorkshire was the result of spontaneous combustion, the fire service has said.
More than 60 firefighters tackled the blaze at the Todd Waste Management site on Thirsk Industrial Park on 3 May.
No-one was injured but "significant" damage was caused to the site.
At its height, the fire forced some businesses to be evacuated and eyewitnesses said smoke could be seen in Harrogate, 25 miles (40km) away.
Peter Hudson, from the fire service, said such fires were not easy to predict.
He said: "Basically you get the breaking down of organic materials by the bacteria, that creates the heat and if there's a bit of insulation... that will burn and you end up with spontaneous combustion and a small fire starts which leads to a bigger fire."