Thirsk volunteers open tourist office in former toilet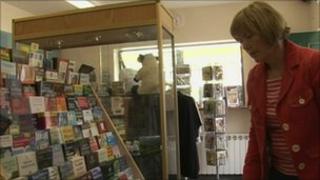 A group of volunteers have opened a tourist office in a former toilet block in North Yorkshire after the local council shut the original centre.
Several people lost their jobs after Conservative-run Hambleton District Council shut the tourist information office in Thirsk to save money.
Now, volunteers have turned a municipal toilet block into a new tourist hub.
"I think we've got one of the best tourist offices in the country," said volunteer Jo Caramello.
She added: "It's a fantastic building when you look at the outside of it."
Ted Nesbitt was one of the people who lost his job when the council closed down the old tourist office. He is now working as one of the 27 volunteers at the new information centre.
"Thirsk is a volunteer town, it would stop working if it wasn't for volunteers," he said.
"We invented the big society before Mr Cameron even thought of it."
Hambleton Council closed down the original office in March as part of its budget cuts following the government's Public Spending Review, but provided a start-up grant to the volunteer tourist office.
It had to close the functioning public toilet to make way for the new tourist hub, but the council said there are "other public bathrooms available in town".