Cystic fibrosis care inspires York man to be a surgeon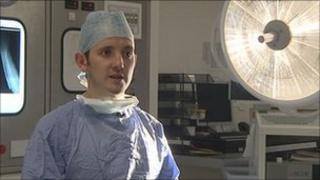 A cystic fibrosis sufferer from York has qualified as a surgeon, after being inspired by the care he received while growing up.
Aaron Brown, 26, works at York District Hospital and has fulfilled his childhood dream.
Dr Brown was diagnosed with the condition when he was four days old. He takes about 35 tablets a day.
Cystic fibrosis is an inherited disease which primarily affects the lungs and the digestive system.
'Phenomenal achievement'
Speaking about his illness, Dr Brown said: "It does make me more determined.
"In a way, I over compensate to try and prove I'm just as normal as anyone else."
He had to work around his illness while studying, and spent two weeks in hospital with pneumonia before taking his final surgical exam.
Chief Executive of the Cystic Fibrosis Trust, Matthew Reed, said: "Training to be a doctor, and then a surgeon is a phenomenal achievement for anyone, but doing so when you've also got cystic fibrosis is a huge, huge achievement.
"As far as we know Aaron is the first person in the UK living with cystic fibrosis to train to be surgeon."