Drinking parties 'threaten' Scarborough woodland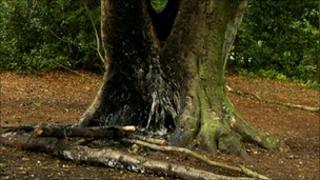 Underage drinking parties are the biggest threat to one of North Yorkshire's ancient woodlands, according to a conservation group.
The Friends of Raincliffe Woods was established in 2005 to protect the area which contains several sites of special scientific interest.
The group says they have seen a rise in anti-social behaviour and vandalism at the site near Scarborough.
North Yorkshire Police have increased patrols in the area in response.
Historic woodland
The group's chairman, John Bradley, said: "Light nights and warm weather seem to bring out the uncaring and selfish members of the community who travel to areas of natural beauty and do the utmost to destroy it."
Mr Bradley said the drinking parties were destroying the beauty of the historic woodland.
"The results are plain to see the following mornings with empty wine and spirit bottles, food packaging, abandoned tents and sleeping bags, broken glass, used drugs needles and condoms strewn around the woodland," he added.
As well as increasing patrols in the area, officers from North Yorkshire Police have been visiting local schools to warn teenagers against using the woods for underage drinking.