Thirsk steel company in £48m Heathrow deal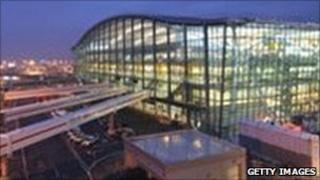 A steel company in North Yorkshire has secured a £48m deal to provide steel for Heathrow's Terminal 2 building.
Severfield-Rowen will provide thousands of tonnes of steel for the frame of the building including floors, staircases, and the roof.
The company has previously provided steel for the Terminal 5 building.
The development of Heathrow's Terminal 2 is part of a £4.8 billion investment into the airport. It is hoped the new terminal will open in 2014.
Peter Emerson from Severfield-Rowen said: "The lion's-share of the work is coming out of our plants in Thirsk and Scarborough, so a significant proportion of that £48m is in fact being spent in north Yorkshire.
"The impact of it is, of course, very positive and projects of this size will help to maintain employment opportunities for all our people."
Transport companies in North Yorkshire will be used to transfer the steel loads from Thirsk to Heathrow.