Harrogate council criticised over mayoral dinner cost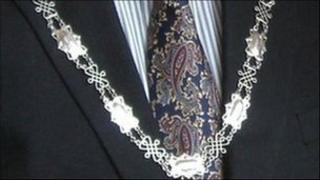 A North Yorkshire council has come under fire for spending almost £5,000 on a civic dinner for its mayor-making ceremony while cutting services.
Harrogate council's mayor-making meal cost taxpayers £4,827.14 last year, with this year's event later on Friday costing a similar amount.
Liberal Democrat councillor Stan Beer said it was "just not acceptable".
The council said the mayoral budget had been cut by £3,000 five years ago and had not risen since.
The Conservative-led authority is facing a budget cut of almost 17% this year and said cuts to services are inevitable.
'Staff cuts'
Mr Beer said: "We have cut everything right across the board but we have only cut the mayoral budget by a very small amount.
"We are also making cuts in staffing levels as well but we are still continuing to pay for this when we should be looking to cut our cloth.
"This doesn't put out the right signs to the general public."
Mr Beer said "quite a few" councillors would happily contribute to the costs of the meal.
"We can't afford to be feeding ourselves when other people are going home without a job and no food on the table," he said.
Councillor Les Ellington will be appointed the new mayor of Harrogate at the ceremony.
All 47 Harrogate councillors are invited to the event, which is used to celebrate the achievements of charity workers and volunteers within the community.