Thousands expected in Dalby for Mountain Bike World Cup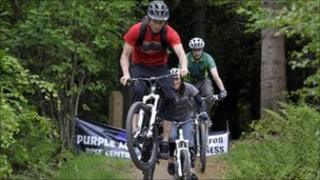 Thousands of people are expected in North Yorkshire as the UK stage of the UCI Mountain Bike World Cup begins.
The event, which runs until Sunday, takes place in Dalby Forest, near Pickering.
Organisers say the event attracted 11,000 spectators in 2010 and are expecting a similar number this year.
Competitors in the three-day event will be hoping to pick up qualification points for the 2012 Olympic Games.
The Forestry Commission, which manages the 8,600-acre (3,440 hectare) site, won the right to host the UK stage of the competition in 2009.
Alan Eves, forest management director, said: "Nearly 11,000 fans watched the action unfold last year, you can't get better than this event in Dalby."
Dalby Dare
The first event is a road race through the centre of Pickering on Friday.
Another highlight is Saturday's Dalby Dare, when amateur cyclists are able to complete a timed lap of the black-rated World Cup course through the forest.
James Risker, 27, from Wykeham, said it was like being able to play on the Wembley turf just before the FA Cup Final.
"The course is pretty tough to say the least, but what a fantastic opportunity to use the same trail as the world's elite and compare a lap time."
The team which designed the course at Dalby has been asked to advise the people building the new Olympic course in Essex.
The UK stage of the World Cup will be held on the Olympic course next year but is expected to return to North Yorkshire in 2013.