North Bay Railway in Scarborough marks 80 years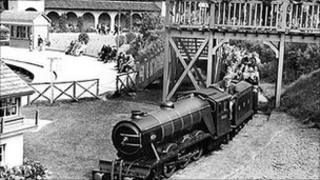 One of the oldest seaside miniature railways in the country is celebrating 80 years of service.
Scarborough's North Bay Railway began operating in 1931 and attracted 400,000 passengers in its first season.
The service runs for three-quarters of a mile (1.2 km) from Peasholm Park to Scalby Mills giving passengers a unique view of the North Bay.
Previously operated by Scarborough Borough Council, the railway is now run by the North Bay Railway Company Ltd.
David Humphries, director of the railway, said they were delighted to be celebrating 80 years of entertaining local people and tourists.
Apart from a short break during World War II, the North Bay Railway has operated continuously since it opened on 23 May 1931.
Working order
When the railway opened it had only one engine, Neptune. A second locomotive, Triton, was added in 1932 and towards the end of 2006 two more engines were acquired.
All four of the 20 and 21 inch gauge locomotives were built by Hudswell Clarke of Leeds in the 1930s and are still in working order.
The North Bay Railway Company Ltd took over the line in 2007.
Mr Humphries said the railway was still as popular with visitors as when it first opened: "It has been fantastic, we started with eight part time staff and now have 13 full time staff.
"Attractions come and go but this railway is still doing what it was built to do 80 years ago."