New £150,000 skatepark opens in Harrogate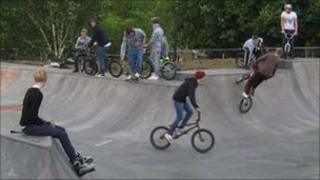 Skateboard and BMX riders in North Yorkshire have benefited from the opening of a new skatepark in Harrogate.
Young people were involved in the design of the new site, which had been delayed after debate over the location.
The £150,000 skatepark in Valley Gardens officially opened on Saturday.
Harrogate Borough Council provided £105,000, with extra funding coming from building developers and Harrogate District Community Safety Partnership.
Cabinet member for cultural services Caroline Bayliss said: "Officers and councillors have been very impressed with the support and understanding shown by those young people who so desperately wanted a local facility, but understood all the issues surrounding it.
"They were frustrated but never put off and I am pleased that we could involve them so much in the design.
"I sincerely hope they get a lot of fun and enjoyment from it."