North Yorkshire Moors Railway staff work-to-rule on pay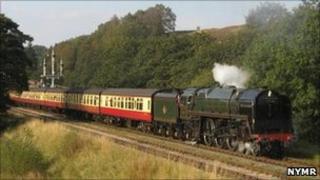 Staff at a steam railway in North Yorkshire are due to take industrial action over pay.
Members of the RMT Union who work at the North Yorkshire Moors Railway will enforce an overtime ban and work to rule from midnight on Friday.
The RMT said they were being asked to take on extra work for no extra money.
The railway's chief executive Philip Benham said the work staff were being asked to do was the reason they had "jobs in the first place".
He said the dispute involved only five workers and stressed that there would be no impact on safety.
'Not true'
The dispute is centred on additional responsibilities the carriage and wagon-fitters are having to take on.
The new duties involve examining carriages and signing them off under safety regulations, as the trains are expected to run on Network Rail tracks.
RMT general secretary Bob Crow said: "This is a straightforward case of fitters being expected to shoulder additional work and responsibility, having the right to be rewarded properly for it.
"The company knows that we are ready to talk to resolve the issue, but simply refusing to entertain an increase in pay for an increase in workload and responsibility is not an option."
Mr Benham said Mr Crow's comments were "just not not true".
"They are not being asked to shoulder additional responsibilities.
"What they are being asked to do is something that has been part and parcel of their work and the reason that they have jobs in the first place, so I'm afraid that Mr Crow's comments are just downright wrong."
Mr Benham added that the action would not affect services.