Army bomb disposal squadron's 100-hour Pennine Way run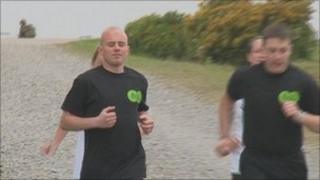 A team of army bomb disposal experts is aiming to run the 268-mile (429km) Pennine Way in under 100 hours to raise funds for injured soldiers.
The 16-strong team all serve with 521 Explosive Ordnance Disposal Squadron based at Catterick in North Yorkshire.
They will run in pairs in a non-stop relay starting early on Monday morning.
They are raising money for the British Limbless Ex-Serviceman's Association (BLESMA) and St Dunstan's, for blind and visually impaired ex-servicemen.
All those taking part, including servicemen and women, have served in either Iraq or Afghanistan.
The squadron is also responsible for providing bomb disposal teams to support the civilian police across the entire northern half of the UK.
Serious injuries
Squadron sergeant major, Warrant Officer 2 "Tubs" Tubman, said: "We've had a few lads caught in explosions in Afghanistan and some have been seriously injured.
"We've got one young lad in the squadron who was caught in an explosion in December. He's now a double amputee.
"A couple of months before that we had one lad in an explosion who's had serious damage to his face and has lost one of his eyes.
"St Dunstan's and BLESMA support those two and we wanted to support the charities."
He said the Pennine 100 Pursuit would mean each of the soldiers running the equivalent of three or four half marathons in a week.
"It's a bit of a challenge and they've been out training quite hard over the Catterick Garrison training area."