Inflatable church tours North Yorkshire schools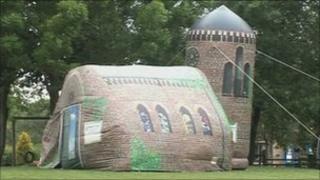 An inflatable church is touring North Yorkshire to enable school pupils to experience prayer.
The 20ft (6m) high church is being taken on tour by the New Life Baptist Church in Northallerton.
Prayer workshops will be run for pupils at six primary schools and one secondary school.
It is the first time the church has used the inflatable on tour, and the response so far is said to be "excellent".
Assistant pastor, Barry Thompson, said: "It is a new experience, a different way of people interacting with the Christian faith."