North Yorkshire farmer sprays sheep with adverts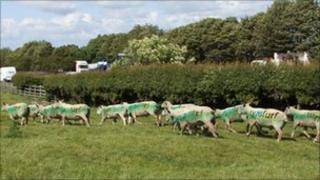 A North Yorkshire farmer has sprayed the logo of his business on the side of a flock of sheep as a way of getting round planning laws.
James Metcalfe, from Dalton, near Richmond, is blocked from putting up billboards to advertise as they could distract drivers on the nearby A1.
He has painted the logo of his turf business on the side of 20 of his newly-shorn flock.
Mr Metcalfe said: "They were quite happy with it."
He added: "We wanted to put up a sign next to the A1 but planning is quite difficult.
"The sheep have just been sheared so it was an opportunity.
"They were quite happy with it. We used a stencil on each side and it only took a couple of seconds."
But Mr Metcalfe, who part owns Tyas Turf, said there was a flaw in his enterprising plan because the animals preferred to shelter at the top of the fields rather than next to the prime location next to the A1.
"They are not trained to stand still," he added.