Battle of Marston Moor being commemorated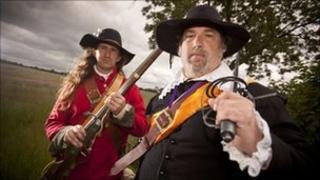 Two villages near York are to be transformed as re-enactors commemorate possibly the largest battle fought on English soil.
It is estimated that 46,000 men fought at Marston Moor on 2 July 1644.
The battle, won by the Parliamentarian forces, is regarded as one of the most significant of the English Civil War.
Long Marston and Bilton-in-Ainsty will be hosting historical re-enactments and battlefield tours between 1 and 3 July.
In June 1644, King Charles I had ordered his nephew, Prince Rupert of the Rhine, to relieve York, which was under siege by the Parliamentarians.
Rupert took the city and then pursued the Parliamentarian army west.
Surprise attack
The Parliamentary force, with its Scottish allies, then surprised Prince Rupert with an early evening attack.
The smaller Royalist army was heavily defeated and was forced to flee the field.
York fell to the Parliamentary army, commanded by Sir Thomas Fairfax, on 16 July.
Marston Moor signalled the end of Royalist hopes in the north of England.
From 1 to 3 July the battlefield site at Marston Grange will welcome more than 100 Royalist troop re-enactors.
There will also be a field hospital at Bilton-in-Ainsty and cannon emplacements at Long Marston.
Recreated uniforms, weapons and archaeological finds from the 400-acre (161-hectare) site will be displayed to help visitors visualise the events in the run up to, and during the battle.
The event has been organised by York Archaeological Trust in association with Sealed Knot, Marston Grange and the MS Society.