Hidden railway art goes on show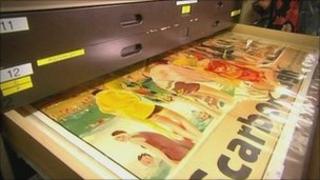 Hundreds of works of art telling the story of the railways are to go on show in a new gallery in York.
The National Railway Museum (NRM) will display thousands of paintings, sketches and posters which until now have been largely kept in storage.
It comes as the Public Catalogue Foundation (PCF) and the BBC launch an online catalogue of every painting in the national collection.
The new gallery at the NRM opens in July.
The NRM's vast art collection comprises 11,222 posters, 2,358 prints and drawings, 1,052 paintings and 1,500,000 photographs, many of which have never been on public display.
Ed Bartholomew, senior curator of image collections at the NRM, said: "We have significant works that tell how railways came about, how artists interpreted them and also how railway companies marketed themselves."
The collection includes many of the original paintings used to create the magical posters of the 1920s and 30s.
"Railway companies were really prolific in producing travel posters and there was a heyday period from just after the end of the First World War to the 1950s," said Mr Bartholomew.
It was those posters that helped attract thousands of holidaymakers to the tourist hotspots during the golden age of steam.
'Beautiful works'
They feature destinations such as Harrogate, the Yorkshire Dales and the east coast seaside resorts.
Steve Davies, director of the NRM, said: "We have a fantastic art collection but apart from periodic exhibitions we've never really had the central focus here to display it.
"The new art gallery, I think, is the missing link. There are some quite wonderful, beautiful works of art which we are looking forward to revealing in all their glory."
The decision to put more of the NRM's collection on show comes as the BBC and Public Catalogue Foundation launch the Your Paintings website.
This ambitious project aims to build an online catalogue of all the paintings in the national collection, many of which have never been seen by the general public.
'Monumental project'
In all, the national collection amounts to some 200,000 works, held in 3,000 galleries, museums, libraries and public institutions all over the country.
It is probably one of the largest and most diverse collections of paintings in the world.
Andrew Ellis, Director of the Public Catalogue Foundation, said: "No country has ever embarked on such a monumental project to showcase its entire painting collection online."
The first 63,000 paintings have already been uploaded to the Your Paintings website and it is hoped that the entire collection will be available online by the end of 2012.
The art collection at the NRM features in a BBC One television programme, The Hidden Paintings of Yorkshire and Lincolnshire, which will be broadcast at 2225 BST on Sunday 26 June.