Facebook wage plea by York City Council leader sparks row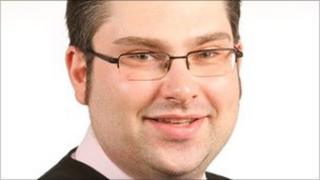 Political rivals have questioned the capability of a council leader who asked for a wage advance after sharing his financial predicament on Facebook.
James Alexander, 29, who was voted in as new Labour leader of York City Council last month, received £200 following the request to the authority.
Conservative leader Ian Gillies said: "If you can't manage your own, how can you manage the finances of the city?"
Mr Alexander said his opponents were "out of touch with modern reality."
Mr Alexander, who earns about £30,000 a year, is believed to be the youngest council leader in the country after taking control of York from the Liberal Democrats in May's elections.
The criticism came after he made comments about his financial predicament on his Facebook profile.
Mr Alexander said he was entitled to the cash for several days of work at the end of last month after being sworn in as leader on 26 May.
It was due to be included in his wage packet at the end of June but Mr Alexander said he requested it before that because he had "run out of money".
"I've never tried to pretend that I'm a rich person and had lots of money and I'm probably too open about my personal finances.
"Like a lot of people in this country and York, I have an amount of debt from university studies 10 years ago which I've never been able to pay off.
"I gave up my job 12 months ago when I became leader of the opposition, took a large pay cut to do that because I wanted to devote myself full time to people in York and that was a financial struggle.
"I was sworn in as leader on 26 May, and between 26 May and the end of the month I worked as leader and didn't receive that income and I asked for it basically because I had run out of money.
"I think that it shows I'm much more in touch with people in York."
The Liberal Democrat group's leader Carol Runciman said: "I think he needs to learn perhaps you can't be open about everything when you're in a position of responsibility... I think there's an amount of discretion that's needed."
Mr Gillies said: "At the end of the day James has put on Facebook his personal side."
He added: "It does beg the question if you are borrowing money and then borrowing money from next month to pay this month's bills, what happens next month?"