Selby drug addicts' cycle ride for charity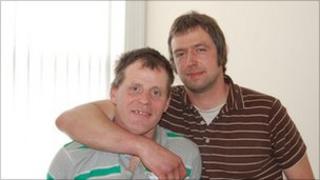 Recovering drug addicts from Selby are tackling an 80-mile (128km) bike ride to raise funds for a charity that has helped them overcome their addiction.
The four men are hoping to complete a four-day cycle ride from the Solway Firth to the mouth of the Tyne.
The men have all been treated for drug addiction at Compass in Selby.
The charity offers a range of treatment programmes, including outdoor pursuits designed to give addicts what it describes as a "natural high".
Compass in Selby has been running the Natural Highs project since 2009.
It aims to build self-confidence through outdoor activities such as climbing, canoeing and archery.
Thirty-five-year old Andy started taking heroin when he was 18.
He said: "Through my 20s I carried on working, had a so-called normal life, had a missus and a child, but behind the scenes I was taking heroin."
After losing his job and his partner and growing distant from friends and family he sought help from Compass.
'Not just worthless'
He has been drug-free for more than a year now.
Anthony Nevens, substance misuse worker at Compass Selby, has helped set up the cycle challenge.
He said: "Events like these can be such a catalyst for change.
"We know from past experience that these kind of things can really help to build motivation and friendships that can sustain the results of treatment long after people have left our services."
Another rider, Paul Hobson, said: "Compass have helped me, so I want to help them.
"I want people who come to Compass to get what I have had, feeling like you're worth something, you're not just an addict, you're not just worthless."