Farmer Steve Newlove turns back the clock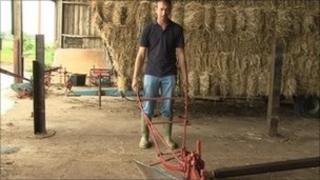 A farmer in North Yorkshire is auctioning off his modern equipment and returning to traditional techniques using horses and hand-held ploughs.
Steve Newlove, who farms between Harrogate and York, is hoping to raise enough cash from the sale to enable him to buy vintage equipment.
He has already bought two horses which he will use on the farm.
Mr Newlove said he wanted to turn the clock back because of the cost of modern equipment and fuel.
Mr Newlove said: "I want to go back to what people said were the 'good old days'.
"I want to give it a go."
He said he was preparing to plough the fields using old-style ploughs on his farm at Thorpe Underwood, near Green Hammerton.
But retired farmer Walker Barrett, who remembered the days before mechanized farming began, had words of caution for the Mr Newlove
He said: "You couldn't plough above and acre a day.
"With two horses we'd maybe start ploughing about half past eight in a morning until it was dark.
"It was hard work alright, you never got a belly in those days."