Evensong from York on BBC Radio 3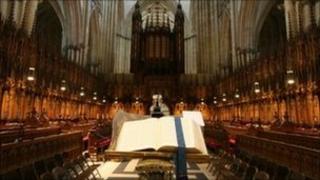 Evensong at York Minster is to be broadcast on the BBC Radio 3 programme Choral Evensong.
The service is sung by the Minster choir every day of the week except Mondays.
The choir consists of 12 adult male singers who sing with either the boy or girl choristers at the cathedral.
The day of broadcast, 29 June, is the Feast of St Peter the Apostle, patron saint of York Minster.
Choral Evensong is aired twice weekly, live at 1600 BST on Wednesday and repeated at 1600 BST on Sunday.
It was first broadcast on Thursday 7 October 1926, live from Westminster Abbey, and has been broadcast weekly on BBC Radio ever since.
The Reverend Canon Peter Moger, precentor of York Minster, said: "We are delighted that the BBC has chosen to broadcast from York on the day of our Patronal Festival and that we have been able to include works by two former organists of York Minster in the music list."
Evensong that day will begin at 1600 BST not at the usual weekday time of 1715 BST.
Anyone wishing to attend the service needs to be seated by 1545 BST.
Choral Evensong will be broadcast on BBC Radio 3 at 1600 BST on Wednesday 29 June and afterwards in the UK on the BBC iPlayer.