Harrogate man can remove hundreds of bats from his home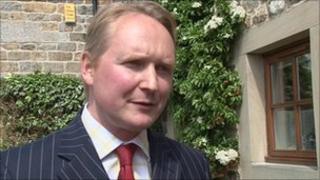 A North Yorkshire man who claimed his home was uninhabitable after hundreds of bats moved in has been given permission to remove them.
Jonathan Mortimer, from Harrogate, said the bats were creating havoc in the property, which was once a set for the ITV soap Emmerdale.
Bats and their roosts are protected by law in the UK.
After months of negotiations Mr Mortimer has now been given a licence to exclude the bats by Natural England.
Mr Mortimer bought the property, at Leathley near Harrogate, last September but it was in April this year when it became apparent the house was an established roost for bats.
At one point Mr Mortimer said he had counted up to 300 bats entering the property.
The disturbance meant most of the bedrooms of the house were uninhabitable.
Mr Mortimer said: "It proved impossible to sleep with hundreds of bats above our heads flapping, screeching and scrapping."
Change in the law
It is a criminal offence to intentionally or recklessly disturb a bat in its roost and fines of up to £5,000 per bat can be imposed.
Mr Mortimer said it seemed as if the bats had more rights than he did and called for a change in the law allowing owners to get an immediate licence to remove bats which are roosting in dwellings.
Natural England has now granted a licence to exclude the bats from the property which will mean Mr Mortimer can now block up access points in the roof.
To ensure no bats are destroyed in the process it has been agreed this work will not take place until August when the bats are expected to migrate and leave the roost.
Jonathan Mortimer said he was pleased with the outcome and he now only faced a few more weeks of disruption.
The Bat Conservation Trust said it had worked closely with Mr Mortimer to try to find a solution to the problem.