Hundreds join York rally over pension reforms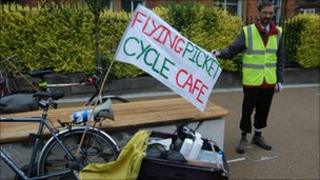 Hundreds of public sector workers joined a rally in the centre of York to protest about the planned reform of pensions.
More than a quarter of schools in North Yorkshire closed or were partially shut as staff staged a strike over pension changes.
Out of the county's 448 schools, 70 closed and a further 73 partially shut.
As well as the teaching unions, members of the Public and Commercial Services Union (PCS) also took action.
One of the participants of the rally in Parliament Street in York said it was the "last chance to fight for pensions".
Unions claim changes to pensions will mean people working longer and paying more.
Vin Wynne, regional organiser for the NUT, said: "We are trying to send the government a message and as recently as Monday it was in their gift to prevent the strike from going ahead by engaging in serious consultations and negotiations over the future of our pensions."
Anne Swift, a head teacher in Scarborough and member of the NUT, said she "felt sorry" for her pupils but that the government had "forced us into taking action".
Mass pedal
Earlier, people took part in a mass pedal through York visiting picket lines, which was organised by York Stop the Cuts.
The cycle group, towing a trolley containing tea and coffee, aimed to visit a number of official picket lines at government offices, colleges and schools.
Graham Martin, from York Stop the Cuts, said: "This wasn't just about pensions for a small group of workers who were on strike today.
"This was about a much bigger issue and everyone's right to a decent quality of life in retirement."
Diane Breen, North Yorkshire chairwoman of the PCS, said there had been a "great turnout" at a picket line at the job centre offices on Monkgate in York.
"We believe around 80% of our membership have taken action," she said.
"Pensions and cuts were at the forefront of our fight today."
Some parents were supportive of the strike despite the inconvenience.
Parent Robert Evans said: "Myself and a few other parents at our school decided to bring the children to the park to keep them busy.
"Pensions are a very important part of life, especially now we are all living longer. They are worth fighting for."
The action has been condemned by the government and Labour leader Ed Miliband said the strikes should not have happened.
Hugh Bayley, Labour MP for York Central, said: "Years back people would retire at 65 and live on average for 15 years.
"Now people retire at 65 and live on average for 30 years.
"You don't need to be a great mathematician to know if you live twice as long then the pension funds need to have twice as much money."