Harrogate rehabilitation farm gets £1m donation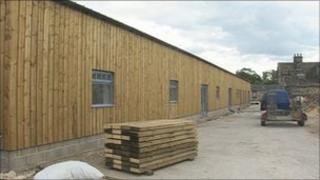 An anonymous £1m donation has been given to a training centre for reformed addicts in North Yorkshire.
The money was donated to the Horizon Life training centre, at Killinghall near Harrogate, by a family trust.
The £1.95m centre is being built on a farm and is the fourth to be operated by the charity.
It will provide training in agriculture, joinery, welding, bricklaying, IT and catering for former drug and alcohol abusers.
Construction started on the project before all of the funds were secure.
To date more than 1,000 people have contributed to the cost.
Martin Minshull is one former addict who is working on the construction of the site. He said the opportunity had changed his life.
"Now I know how to set a goal and achieve a goal. I'm looking forward to learning new skills, enjoying a new career and enjoying a real life."