Traders in York say they will 'fight' car park sale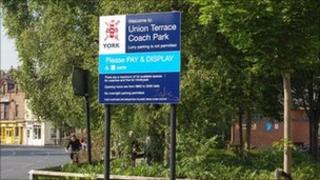 Traders in York claim proposals to sell a car park in the city could destroy their businesses.
The City of York Council is considering selling Union Terrace coach and car park to the University of York St John.
The council has said that allowing the university to expand would create jobs and enable them to introduce pay-on-exit parking at other car parks.
Business owners claim the sale would reduce footfall and could force premises to close all together.
Trevor Fenwick, who represents traders on Gillygate in York, said: "Most people coming to the city on trips get dropped off at Union Terrace. Heavy footfall and passing trade are essential to our survival."
The leader of the City of York Council, James Alexander, said if the sale did go ahead the council would provide alternative coach drop-off points across the city.
"The money generated by the sale will also enable us to introduce pay-on-exit in all our car parks which retailers have been asking us to do," Mr Alexander added.
'Significant benefits'
Mr Fenwick said traders were angry about the proposals and would fight the plans.
Visit York said 10,000 group tours visited the city each year and 90% of those groups came by coach.
Union Terrace has 34 spaces for coaches which amounts to more than half the total provision in the city.
A spokesperson for the University of York St John said they were in discussion with the council over the plans and that the development would "bring significant benefits to students and the wider city economy and community".