From pork pies to flea circuses for Northallerton man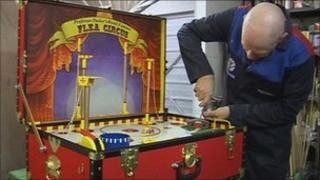 Five years ago, Eric Christoffersen worked in a North Yorkshire pork pie factory.
Eager to do something different, he followed up his son's interest in flea circuses to set up his own business.
He now performs flea circus shows across the country in front of audiences of up to 60 people.
There are a mixture of illusory and real shows and the attraction for audiences is said to be the uncertainty over which variety they are watching.
He claims to be the world's only full time flea circus maker.
All this is completely different from the factory life Mr Christoffersen lived prior to starting up Svensons Flea Circus when he was a maintenance engineer in a pork pie factory.
Mixed reaction
He said: "I realised that I was sick of the nine to five and I thought enough is enough."
It was then he turned to his son's hobby of making mini circuses.
He said: "My son has been interested in anything to do with fayres, circuses and fairgrounds since he could talk.
"I took over the flea circuses when he lost interest."
After making a small flea circus, Mr Christoffersen said he realised there was a demand for them.
To date, he has made more than 80 flea circuses which have been sold to countries around the world, including America, Singapore and Germany as well as to customers in the UK.
Before his change in career, he said he had never stood in front of an audience before.
He said he gets a mixed reaction to the shows.
"Sometimes people take a few steps back and are scared to get too near," he said.
"Other people stand and say it's all nonsense and it's not real. But then sometimes they will see fleas and they realise what's going on."