York flood defence scheme given extra funds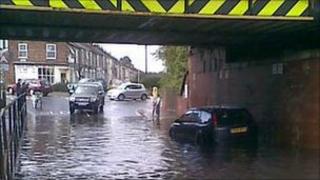 A scheme to increase flood protection in York is to move forward after the city council provide funding.
The £6.5m plan, for the Leeman Road area of the city, was put on hold earlier this year due to government cuts.
Now the council has given the Environment Agency £1.4m to enable it to continue designing the scheme.
The authority said it was confident of getting funding to start construction work in 2012.
People in the area have been campaigning for improved defences for more than a decade.
During the floods of November 2000 the existing defences came close to being overwhelmed and hundreds of people had to be evacuated from the area.
'Huge relief'
The latest plans include repairing flood banks and walls, raising their height and building new defences.
The Yorkshire Regional Flood Defence Committee put the plans on hold in January after the government cut funding for new flood defence schemes.
James Alexander, Labour leader of City of York Council, said: "I'm delighted that as a council we're finally at a point to progress this scheme, which I'm sure will be a huge relief for local residents."
Adam Tunningley, asset system management team leader at the Environment Agency said: "This scheme will benefit around 382 residential properties and 11 businesses."
Mr Tunningley and Mr Alexander added they were confident capital funding would be allocated to begin construction work next March.