New dentists in North Yorkshire to clear waiting lists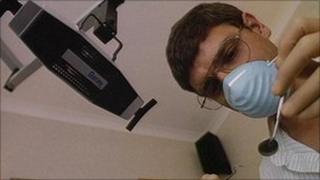 Everyone who wants access to an NHS dentist will have it by April 2012, NHS North Yorkshire and York have said.
The primary care trust said it was spending more than £1m on recruiting new dentists to clear the waiting list.
More than 9,000 people in the county are currently on a waiting list to find a place at an NHS practice.
John Renshaw, from the British Dental Association, said he was not "convinced" the numbers were accurate but welcomed improved access.
The trust's figures show that the number of people waiting for an NHS dentist has already dropped by a fifth in the last four months.
'Very concerned'
In February, 11,556 people were on the list but by 1 July, the figure stood at 9,195.
Mr Renshaw said it was a "worrying" figure but he questioned its accuracy.
He said: "Many of the patients who are approached, whose names are on the lists, don't want an NHS dentist. They have already made alternative arrangements."
Lorraine Naylor, assistant director of primary care for NHS North Yorkshire and York, admitted there was a problem when patients applied directly to a dentist for a place and failed to inform the NHS when they had secured one, therefore remaining on the waiting list.
Ms Naylor also said she was very sorry that people were still having to wait.
"We are very concerned about the situation which is why we are spending over a million to try and recruit more dentists," she said.
"We hope to start clearing the list by Christmas this year and by April next year everyone who wants access to an NHS dentist in North Yorkshire will have it."