RSPCA 'pleased' with animal ban for Yorkshire pair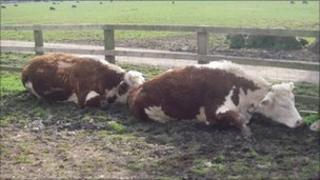 The RSPCA has declared itself "very pleased" with a life ban on a mother and son convicted of animal cruelty.
Pamela Palmer, 70, and Joseph Palmer, 30, were charged after inspectors found five sheep starved to death and two cows which had to be put down.
The animals were being kept in the grounds of a £4.5m mansion in North Yorkshire.
The pair were also sentenced to 18 weeks in jail, suspended for 12 months at Selby Magistrates' Court.
Mrs Palmer, of Old Stockbridge Road, Sutton Scotney, Winchester, entered a guilty plea and was ordered to pay £500 costs.
'Terrible case'
She was charged with three offences of causing unnecessary suffering to a bull, unnecessary suffering to a cow and causing unnecessary suffering to five sheep by failing to provide care and supervision, resulting in their death.
Her son, of Rein Road, Tingley, West Yorkshire, was convicted in his absence at an earlier court hearing.
He was ordered to pay £1,000 costs and to carry out 100 hours of unpaid community work, on top of the ban on keeping livestock and the suspended sentence.
An RSPCA spokesperson said: "This was a terrible case which involved very long periods of suffering and the deaths of a number of animals in the care of the Palmers.
"We always hope for a ban on keeping animals as the best way of ensuring no other animals suffer in future and we're very pleased that both Pamela and Joseph Palmer have indeed been banned."
The RSPCA were called after the house and 200 acre estate were repossessed in April 2010.
The sheep appeared to have starved to death and eaten soil due to the lack of access to food and water.
A bull was found to have been suffering from severe arthritis for several months. A cow was found to have a large abscess on its foot. Both were put down by vets.
Mrs Palmer's defence team said she had experienced a "long, difficult history" on the farm, including livestock being stolen and stabbed, and crosses daubed on her door in animal blood.
RSPCA inspector, Laura Barber, who dealt with the case, said: "It's a job I will never ever forget going to. Hopefully it will never happen again.
"These animals were on their doorstep. As far as I'm concerned they were passing these animals every day and it's unforgivable."