Malton Museum to close in 2012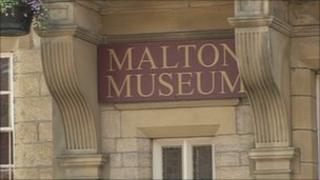 A North Yorkshire museum will close next year after being made homeless.
Malton Museum will have to move out of the building it occupies in the market place in April 2012.
The owner of the property, Fizwilliam Estates, said it would raise the rate for the building from next year.
The museum is unable to renew the lease on the building and has failed to attract sufficient funding to find a new home meaning closure is the only option.
At present the museum pays the council a nominal rent to sub-let the property in the centre of Malton.
However the council's lease on the building expires next April meaning the museum or the council would have to pay a full commercial rate to stay.
David Lloyd-Williams, chairman of Malton Museum Foundation, said that would not be an option.
He said: "It would be difficult to sell the idea of paying three times the rent for another 20 years to maintain the museum in this building."
Temporary closure
The museum has applied for lottery grants to help it find new premises but so far those applications have been unsuccessful.
Mr Lloyd-Williams said he was still hopeful they could eventually secure funding for a new permanent home.
"I am not proud. I will go out with my begging bowl if necessary," he added.
Julian Rudd, head of economy and housing from Ryedale District Council, said it would continue to support the museum and considered the closure temporary.
The museum and the council plan to store the collection, which includes rare Roman artefacts and finds from the medieval village of Wharram Percy, until new premises can be found.
Mr Rudd said: "It is unfortunate that attempts to get heritage lottery funding haven't succeeded thus far but there are a number of interesting ways that we can use this splendid collection to take it out and display it at events across the district during this transition period."