Yorkshire tourist numbers increase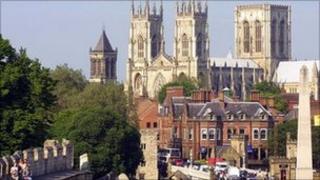 The number of British holidaymakers visiting Yorkshire this year has increased, according to official figures.
The Great Britain Travel Survey (GBTS) reveals trips to the region increased by 14% in the first quarter of 2011.
The figures come as the regional tourism agency confirm officials from the Tour de France are to visit the region in October.
The agency said hosting the event in 2016 would attract even more visitors.
The regional tourism agency, Welcome to Yorkshire, is bidding to host the opening stages of event.
They agency say major events play an important role in maintaining the region's high-profile at home and abroad.
The figures from the GBTS reveal spending by domestic visitors in Yorkshire had also risen by 25% to £267m compared to the same period in 2010.
'Incredibly positive'
The survey, which is compiled for the three national tourism agencies, also revealed more than 2m trips were made to Yorkshire by domestic visitors during that period.
Nationally the number of trips rose by just 5%.
Gary Verity, chief executive of Welcome to Yorkshire, said advanced booking for the remainder of the year suggested the upward trend was set to continue.
Mr Verity added: "Early indications are incredibly positive and point towards this year's summer season being as positive as the last."