Scarborough joins forces with Hackney for Olympic events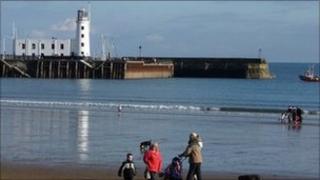 Scarborough is joining forces with the London borough of Hackney for a new project tied to the 2012 Olympics.
The link is designed to help inspire people in the resort to get involved with a range of sport, cultural and art events planned for next year.
The borough of Hackney is one of five in London which are hosting the Olympics.
A variety of sports and cultural events will join the two communities throughout 2012.
Coast 2012 is being run by Scarborough charity Seachange, Scarborough Council and the London borough of Hackney.
Mitch Cook, Seachange's Olympic co-ordinator, said: "There are some amazing sporting talent and clubs locally, this gives us the chance to show what we do here to the rest of the country."
Seachange says as part of the project it will be offering a range of community sports activities.
These sessions are designed to increase participation in physical activity and help develop sporting talent.
A youth exchange programme between Scarborough and Hackney is also planned.
Youngsters in the borough are also being encouraged to volunteer for the Young Games Maker programme, which aims to find more than 2,000 young volunteers around the UK to help out at London 2012.
Councillor Derek Bastiman, Scarborough Borough Council's cabinet member for regeneration and planning, said the authority was delighted to be part of this "inspirational partnership".
Councillor Guy Nicholson, London Borough of Hackney's cabinet member for regeneration and the 2012 Olympic and Paralympic Games, said: "The 2012 London Games have at their heart the aspiration to bring us together through sport and through the arts.
"Our partnership can do just this and set about building a rewarding relationship that could serve our communities well into the future."