Jobs at Scarborough print firm Pindar saved by part sale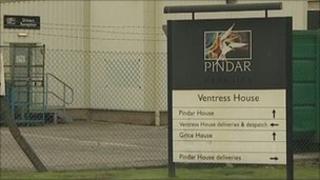 More than 250 jobs at a Scarborough printing firm have been saved.
KPMG, who have been appointed administrators for Pindar, said they had found a buyer for the web offset printing operations.
The sale, to York Mailing Holdings, based at Elvington near York, saves 255 jobs.
The remaining parts of the business, based in Scarborough, York, Aylesbury and Preston, will continue to trade until a buyer is found.
The company, founded in 1836, reported pre-tax losses of £1.4m last year and the business has a £19.5m deficit in its pension scheme.
Earlier this month the company chairman, Andrew Pindar, said they had faced "bruised and battered" market conditions and needed fresh investment to move forward.
'Seeking buyers'
KPMG were appointed as administrators on Tuesday but had previously been asked to search for possible investors.
Mark Firmin, joint administrator and northern head of KPMG's Restructuring practice, said he was "delighted" part of the business had been sold so soon and that all the workers were able to transfer to the new company.
Mr Firmin added: "In the respect of the other businesses, we are actively seeking buyers and are continuing to speak to a number of interested parties."
The business employs 432 staff and KPMG said no redundancies had so far been made.